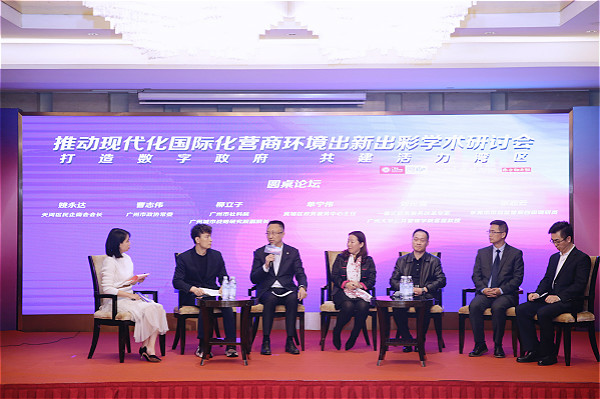 Experts share insights into how to improve a city's business environment at a forum on Wednesday in Guangzhou, Guangdong province. [Photo provided to China Daily]
Guangzhou, capital of South China's Guangdong province, has made substantial progress in improving its business environment. But the city government needs to boost reform, efficiency and the legal environment and optimize the allocation of resources, according to a think tank report.
The Guangzhou Academy of Social Sciences, the only comprehensive research institute on humanities and social sciences in Guangzhou, released the report on Wednesday. It examines the city's business environment and provides solutions to make it better.
"The city government has set a clear target of creating a business environment with global competitiveness, or an excellent environment that is stable, fair, transparent and predictable," said Zhang Yueguo, president of the academy.
He said a city's business environment is an important measure of its governance capability and performance, which is determined by the satisfaction of market entities and the public.
"The business environment must be better and better, with no boundary, because people's demands and needs will keep rising when civilization is advancing and society is developing," he noted.
In the report, several indexes indicate consistent improvement to the business environment of Guangzhou.
The number of newly-added market entities in Guangzhou increased by 4.75 percent year-on-year to 221,700 in the first half of 2019. Of this, companies numbered 162,400, accounting for nearly 73 percent. It meant the city had nearly 900 new companies a day from January to June this year. During the same period, the foreign fund that had been utilized reached about $4.1 billion, up 8.2 percent from a year before.
Meanwhile, about 1,500 projects made an accumulative investment of roughly 247.8 billion yuan ($35.2 billion) in the first half of 2019, accounting for 55 percent of the annual target.
Correspondingly, fixed assets investment surged by 24.8 percent, a record in six years. Private investment increased by more than 40 percent, higher than the average level of the country during the same period. It surpassed Beijing, which stood at 33.6 percent; Shanghai, 38.4 percent; and Shenzhen, 12.3 percent.
Liu Lizi, vice-president of the Guangzhou Urban Strategy Institute under the academy that conducted the research, said government policies have led reform of the business environment.
The city government announced a guideline in March to further optimize the business environment. It listed 43 measures to solve the issues local companies and the public are most concerned about.
One of the measures, Guangzhou will build a domestically leading smart governance platform based on its digital government framework.
The platform will be able to share data from and consolidate services of different departments, Liu said.
As a result, the companies pay fewer visits to government departments for approvals of their investment projects.
To streamline the procedures and improve user experience, the government listed 10 areas that are key to improving the business environment. They include business registration, construction permit, real estate registration, tax payment, cross-border trade, approval to get electricity, water and gas, loan issue and intellectual property right protection.
Liu said all the government departments have worked out many innovative measures to solve problems for companies.
New demand emerges
When the barriers are gradually removed as the government's efficiency improves, companies will seek ways to lower costs and increase profits.
"The companies are inclined to choose cities where they can get talent, technologies and opportunities with relatively low costs and high efficiency," Liu noted.
The research team then put all the elements that would affect the costs and profits into eight categories, which it believed can evaluate the business environment better. The categories include environments for government services, financial market, legal guarantee, social costs, human resources, technological innovation, market demands and international interconnection, according to the report.
When comparing Guangzhou with other four leading cities-Beijing, Shanghai, Shenzhen and Hangzhou-the report found that Guangzhou needed to improve its market access, government credibility system and exposure of government decision information.
Other improvements should be made to strengthen the financial market and innovation environment, policies to attract top-level talent, generate more industry-leading companies and increase foreign capital and foreign trade, advised the report.
Yin Tao, vice-president of the academy, said there are several aspects to consistently optimize a business environment.
They include how to make clear the relations among the government, enterprise and the market, how to create a uniform and fair legal mechanism and system and how to ensure the stability, consistency and accuracy of policies, Yin said.
Yao Yongda, president of the private company association of the city's Tianhe district, said the government cares about private companies and has created many policies to support their development.
He said he hopes the government can set up a long-standing system to communicate with the companies so that they can learn about the needs of the companies and help them solve problems.
Bao Yajun, a researcher from Peking University, said government is playing a critical role in building a better business environment.
"It needs to break the barriers of different government departments and enable them to coordinate," Bao said. "The government departments should work to meet the needs of companies."
chenhong@chinadaily.com.cn